SHERIDAN, BASS, CHEER SQUAD BE ROCKIN' U-NATION
The arrival of football and volleyball season bring excitement to our school! BUT there's more than sports here at U-Nation. For another highlight J-Squad be thinking bout the 'Umoⁿhoⁿ' Nation Cheerleaders! Throughout the years our cheer squad has been the best in the business. Let's just say that our cheer team has the consistency and reliability of Fehringer's homemade buttered popcorn.
No matter if there is wind, rain, or shine one can always count on the U-Nation Cheerleaders to provide energy and excitement for all. This year, we have a total of 19 members and two coaches. Leading the team is none other than the Slick Ricky Sheridan , who is entering his 13th year in charge of the cheer squad. Assisting him is cheer alumni Shylee Bass. This is her 2nd year as Slick Ricky's loyal assistant. One could say that Ricky is the Bread and Shylee is the Butter.
In the below photo (taken by professional freelance photographer Joseph C. Schmidt), Shylee and Ricky are stylin' while beating the heat at the Crazy Horse game!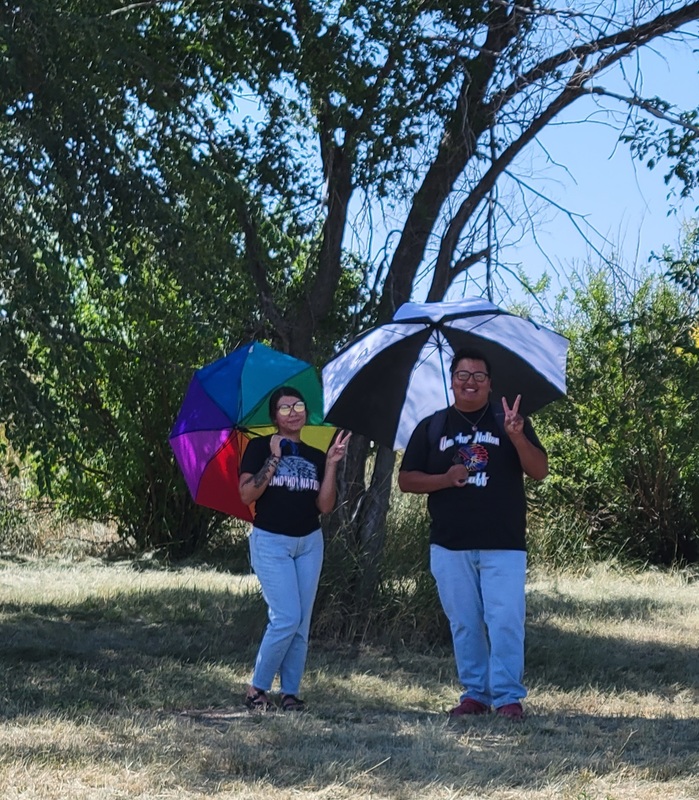 Ok folks--Time for a little 'Q and A' with Slick Rick:
J-Squad: How do you feel the squad has been looking?
Ricky: We feel that the team is moving towards some of the goals we have set for them. We have a few new things we are going to be working on in the coming weeks.
J-Squad: How are the newer members adjusting?
Ricky: They are looking really good considering the fact that some have never cheered before.
J-Squad: Is it true that the squad will be sporting some new uniforms?
Ricky: YES! The main color of this year's uniforms are white - with a red, white, and gold braiding on the arms, torso, and skirt. The skirt has a side pleat on the left side. The embroidery says 'Umoⁿhoⁿ' on the top. Of course the outfit would not be complete without a big red, white, and gold cheer bow. (Vogt's favorite accessory) They all look awesome in their new uniforms!
And of course no cheer uniform is complete without some hot sick kicks. This year's squad is sporting the all new Varsity C3 cheer shoe - this shoe is built tough (like our coach). It shines on the field and the floor. Constructed with durable RallyReady leather, the Varsity C3 can withstand the football sidelines while offering a lightweight feel and superior arch support.
J-Squad: Who are the captains of this year's squad?
Ricky: We have 3 captains this year and they are, in no particular order, Karys Bertucci, Jaya Ross, and Mikesia Snow.
J-Squad: How long have these girls been in the program?
Ricky: These ladies have been in cheer for two and three years.
J-Squad: What do the captains mean to you?
Ricky: They're such a joy to have on the team. They have great attitudes and a good sense of humor. Just like the rest of the squad!
J-Squad: We would like you to consider letting the team cheer in Air Jordans?
Ricky: As long as they could do kicks without them flying off I would be fine with it.
J-Squad: Would you consider making Peck an honorary member of the team?
Ricky: We are still reviewing his tryout video which can be found below.
Here is the breakdown of the Cheer Squad by class
9th: Carlin Saunsoci, Lilly Aldrich
10th: Taylece McCauley, Javianna Chavez, Garyn Lasley, Dailene Walker, Desma Walker, Tanner Snow, Margaret Blackbird, Micah Zephier
11th: Daphne Hastings, Kaelese Webster, Dallyce Lyons, Maleah Miller, Tayla McCauley
12th: Jaya Ross-Captain, Karys Bertucci-Captain, Mikesia Snow-Captain, Taylea Spears