Do you mell that? The mell of an upcoming victory for the Chiefs Football Squad led by MATT. The Chiefs will tee it up vs the Crow Creek Chieftains on Friday, September 8th at 2:00 P.M. This will be the home opener for the good guys as they look to extend their one game winning streak.
The Chiefs are coming off a 56-24 dub over Crazy Horse while the Chieftains are looking to bounce back from their opening day loss to the McLaughlin Mustangs. Well, actually it was a scrimmage due to the lack of refs, but this is no time to argue the finer points.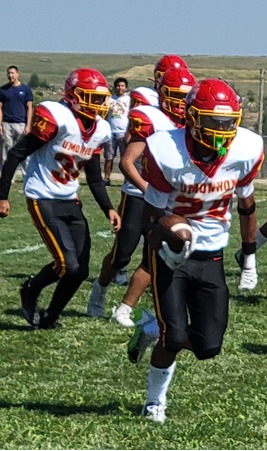 In the above picture Tayven 'V-Lone' Wolfe carries the rock for a big gain. (Picture provided by Professional Freelance Photographer Joseph C. Schmidt)
Here are some words from the Ol' Ball Coach
himself concerning the upcoming battle.
J-Squad: Are you concerned about a lack of focus due to the long weekend:
MATT: We practiced Monday and had an "ok" turnout. However, break or not, I always worry about our focus throughout game weeks. I worry about grades and eligibility, that's for sure. Study hall has been nice but, it's a work in progress.
J-Squad: What concerns you the most about the offense of the Chieftains?
MATT: They are always a tough team, they work hard and they don't quit. They have some big guys up front and I know they always have playmakers that can run the ball.
J-Squad: Are you feeling more of a 'ground and pound' or 'air raid' style of offense this week?
MATT: Coming off of a win, we will stick to the same plan. We might try some different plays or formations but, no need to change much. If it ain't broke, don't fix it.
J-Squad: Do you have any 'Rooski's' planned for Friday's game?
MATT: Ha! No, we'll keep it vanilla as ice.
J-Squad: Does Fehringer
give you any free snacks after the game? If not, do you think he should?
MATT: I'm not a huge fan of concession food and I'm not looking for any handouts.
Well, let's just say that the Ol' ball coach has had better quotes. But come cheer on the Chiefs tomorrow (Sept. 8) at 2:00 P.M. at Wade Miller Memorial Stadium! It's going to be EPIC!