Ed Encinas - The New Artist In Mac-Town
by Paris Walker
Edited by Isabelle Kogayne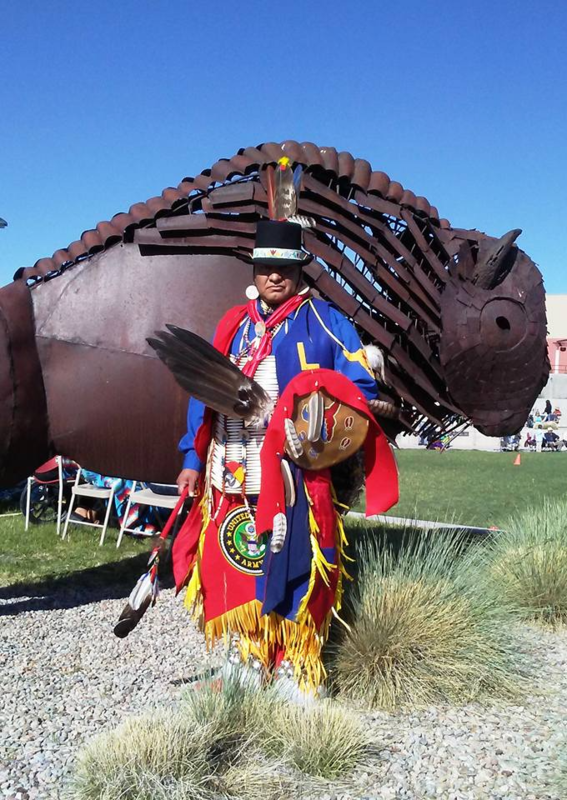 While most were learning to be parents, Ed Encinas was also learning to be an artist. In SantaFe, New Mexico, Ed got inspired to turn his regaluas into ledger art. Two Guild members at Wright's Indian Art in Albuquerque encouraged Ed. This was the beginning of a passion that would eventually bring him home to Macy where he is able to inspire students to put out their art. One of Ed's art pieces caught the attention of Ms. Hardy's eyes. She first asked for a piece of art, then later on offered a placement at UNPS. He agreed to come to UNPS and work alongside Mr. Sturges to educate the youth on ledger art - as well as help encourage and inspire. He says, "In art, there is always more to learn!"
J-Squad: Tell us about what you do here with Mr. Sturges.
Ed: I learn from the students and get inspired by them.
J-Squad: Do you have any hobbies outside of art?
Ed: Yes. Learning more about Native History.
J-Squad: Do you have a favorite book?
Ed: Yes. Blessing for a Longtime by Dennis Hastings
J-Squad: Do you have any hidden talents?
Ed: I can play the drums (on a trap set)
J-Squad: Where would you like to take students on a field trip?
Ed: The biggest and most prestigious Native American Art show in the world. The Santa Fe Indian Market in New Mexico!
J-Squad: What is your most expensive piece of art?
Ed: A painting sold for $800. It is now in a gallery and is worth $8,000-11,000.
Another reason Ed enjoys the Ledger Art Community is because it is very welcoming. Ed tells the J-Squad: "Whenever you are misdirected or misuse a design, people are there to help." He also said that everyone encourages and takes inspiration from one another. Five artists that Ed gets inspiration from are: Monte Yellowbird, Butch Thunderhawk, John Pepion, Darryl Growingthunder, and Terrance Guaudipee.
In the below picture, Ed checks out the sculpture of Chief Big Elk.