A Blast From the Past!
By the J-Squad
Do you ever sit and think about how you're tired of characters like Thanos and movies like Avengers: Endgame? Well lucky for you we have a recommendation! Get a load of this! Voltron: Legendary Defender a 2016 Netflix original. B. Sturges knows what we're talkin bout! The plot centers around some giant dude that is made up of different colored lions. Think transformers! They join together; one forms the head, two form the arms and two form the legs. Looks a little something like this!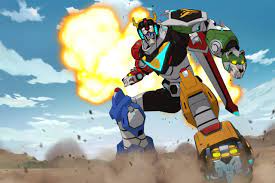 Voltron was also an 80's television show that was rebooted by DreamWorks. So sit back, get a snack and check it out! If you liked Power Rangers like Coon did, you might like this as well. Next up, He-Man and Skeletor as requested by Vogt and Fehringer!